PONDEROSA STUD ROYAL DANCER COMPETES AT THE NATIONAL DRESSAGE CHAMPIONSHIPS NSW
JUST BEFORE THE START OF THE NATIONAL DRESSAGE CHAMPIONSHIPS, ALL NATIONAL FUTURE TALENT SQUAD HORSES RECIEVED INSTRUCTION FROM OVERSEAS EXPERTS. DANCER & RUTH WAS LUCKY TO HAVE A COUP[LE OF LESSONS WITH GERMAN TRAINER TON DERIDDER. IT WAS FABULOUS !
AT THE DRESSAGE CHAMPIONSHIPS, ONGRATULATIONS TO RUTH RIDING DANCER WHO BEING NEW TO THE ADVANCED SCENE, MADE THE TOP 15 COMBINATIONS QUALIFYING TO RIDE IN THE ADVANCED FREESTYLE.COMPETITON. . ALTHOUGH THIS WEEKEND DID NOT PRODUCE A PODIUM FINISH THIS TIME, RUTH & DANCER PERFORMED VERY WELL & ARE IMPROVING ALL THE TIME. (full brother & sister available for purchase and listed on the for sale page)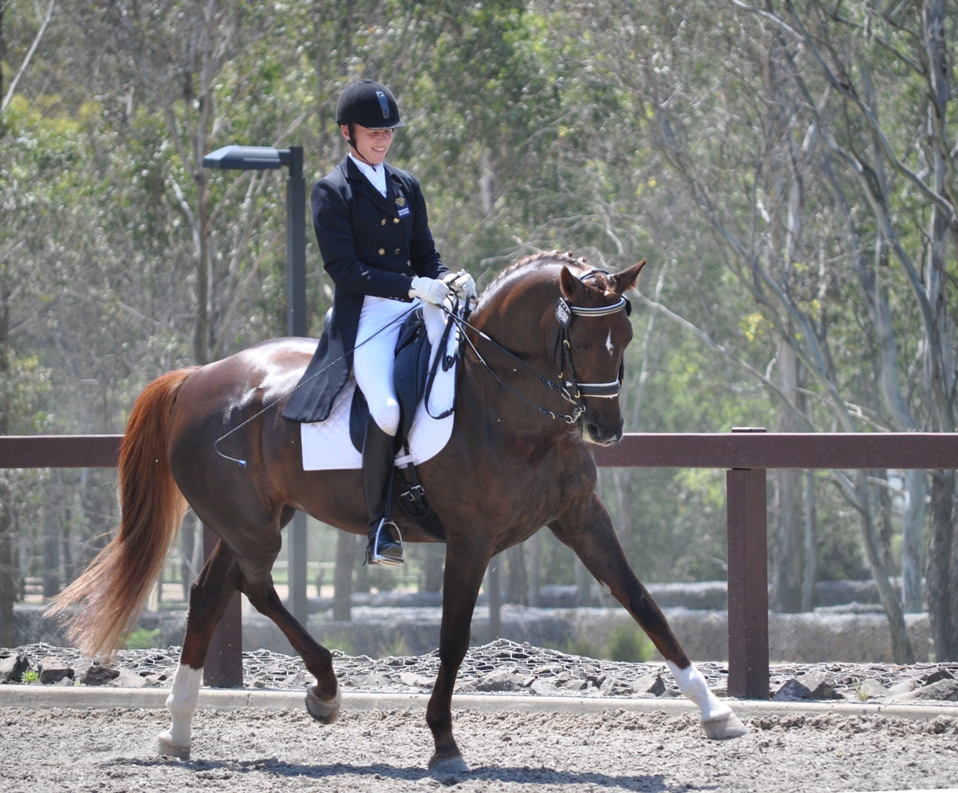 AUSTRALIAN WARMBLOOD HORSE ASSOCIATION 2014 HORSE OF THE YEAR AWARDS
At the AWHA AGM presentations were made to registered AWHA Horses in many categories. The LONTANO progeny scooped the pool of prizes.
PONDEROSA STUD ROYAL DANCER
WINNER OF EA DRESSAGE MARE OF THE YEAR & OVERALL "2014 EA DRESSAGE HORSE OF THE YEAR"
LYRICAL
OWNED & RIDDEN BY ANNE SMITH - WINNER OF "FEI DRESSAGE GELDING OR THE YEAR & OVEALL "2014 FEI HORSE OF THE YEAR"
PONDEROSA STUD LUCIOUS
WINNER OF EA DRESSAGE GELDING OF THE YEAR, WINNER OF "RIDDEN GELDING OF THE YEAR" & OVERALL "2014 RIDDEN HORSE OF THE YEAR"
PONDEROSA STUD LOVER BOY
WINNER OF "ENCOURAGE DRESSAGE GELDING" & OVERALL "2014 ENCOURAGE DRESSAGE HORSE"
COORAMIN RIALTO HIT
WINNER OF "2014 LED COLT OF THE YEAR" OWNED BY PONEROSA STUD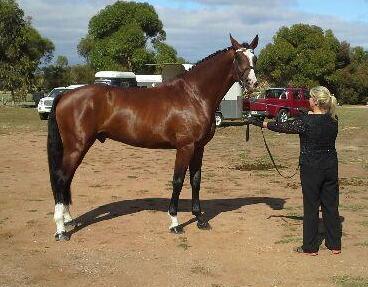 ADELAIDE HILLS SPRING DRESSAGE COMPETITION
PONDEROSA STUD ROYAL DANCER
Ruth Schneeberger & Royal Dancer had another fabulous competition at the Strathalbn Dressage Grounds to win both the Medium & Advanced Dressage Championships as judged by Interstate and local judges at these prestigious Championships. (photo of Dancer & Ruth riding a Canter Pirrouette)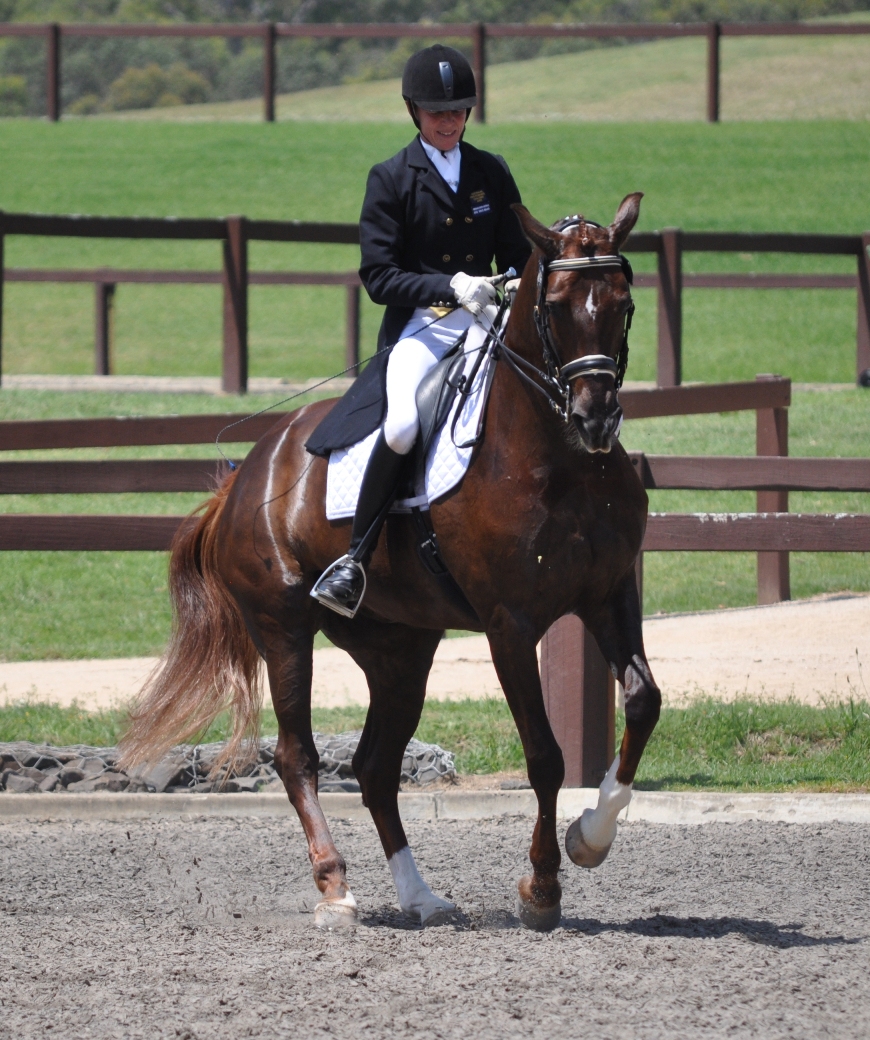 Ruth Schneeberger went on to ride the stunning black 'Lontano gelding', 'PS Liqueur', owned by Helena Runge in the Novice Championships to be Runner Up Novice Champions with fabulous high scores just a mark away from 70%.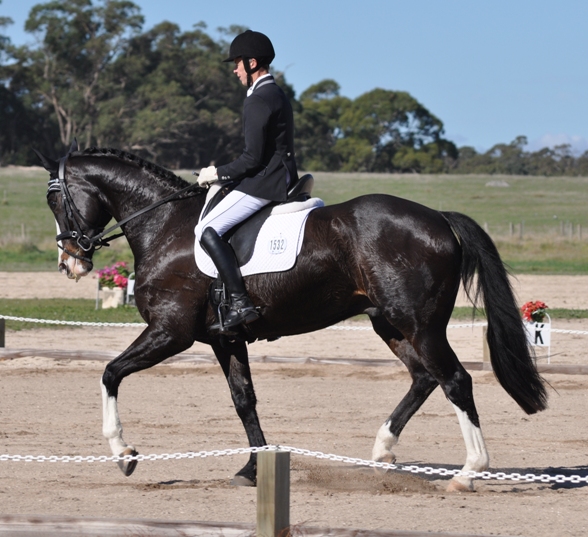 Anne Smith and another stunning black 'Lontano gelding', 'Lyrical' are working very well at the FEI levels to place 2nd & 3rd in the FEI Big Tour & Interermediate 11 Championships.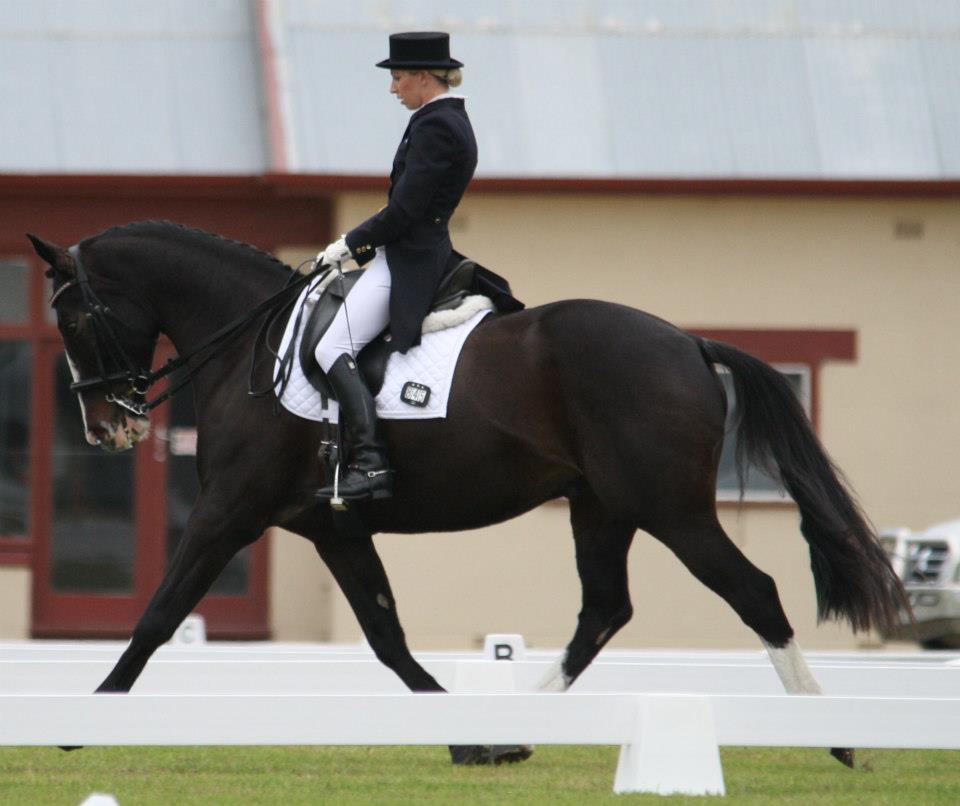 Hazel Roberts aboard 'PS Lectric' was awarded with her riding with a podium finish on her Lontano gelding in the Amateur Owner/Rider competition which was held for the first time this year.
Cheryl Hatswell riding 'PS Lucious' threw away her nerves to gain podium finishes in the Advanced and Prix St George Championships.
GLOBE DERBY ALL BREEDS SHOW
Ponderosa Stud Lucious and Cheryl Hatswell had a lot of fun riiding at the Breed show. They were extremely successflul taking out Supreme Ridden awha Warmblood, Champion Open & Supreme Open Warmblood at the Globe Derby All Breeds show.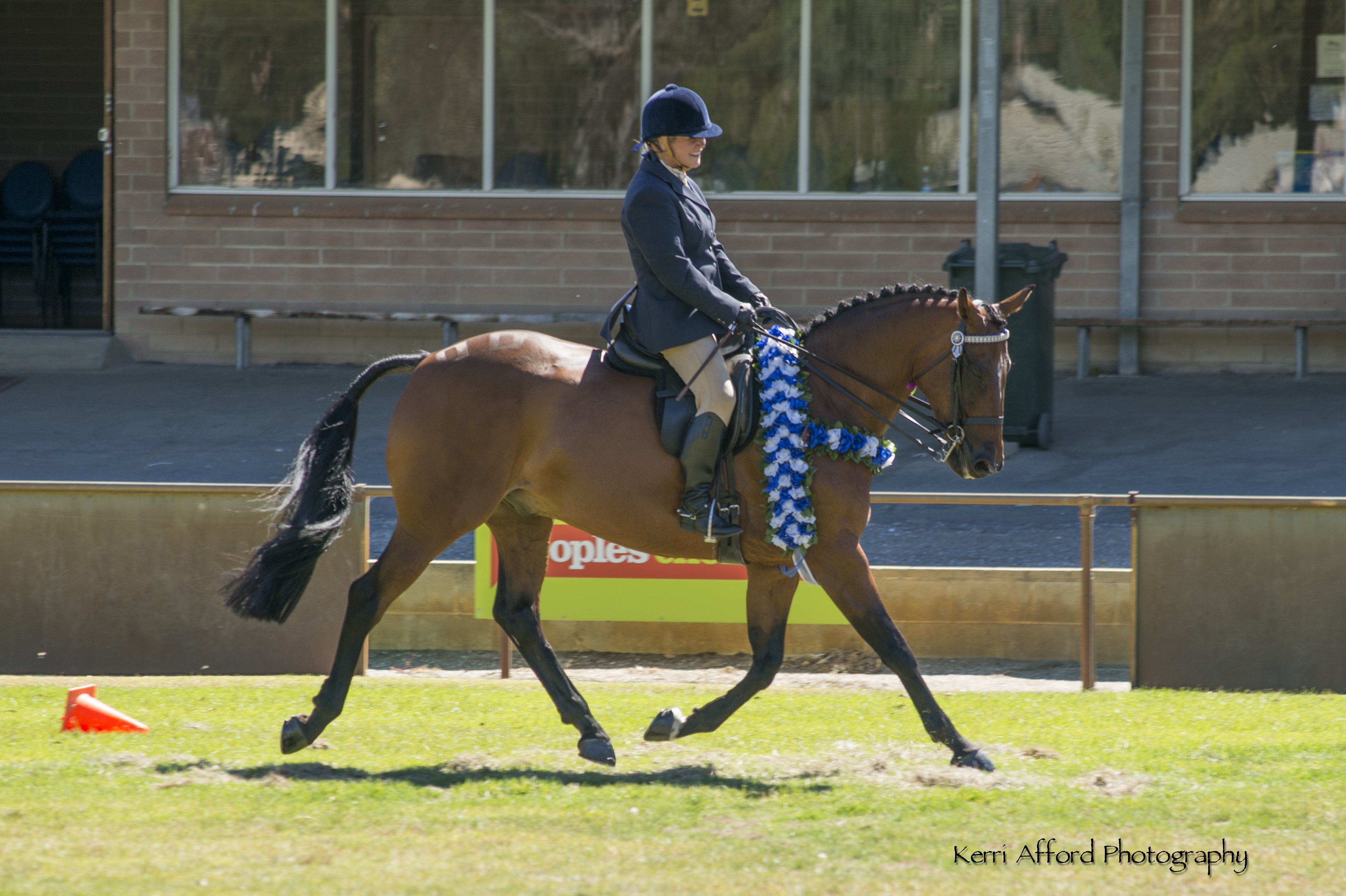 INTRODUCING "CHRISTOS"
(Imported 2 year old Hannovarian Colt -Christ/Revan/Inschullah ) has arrived at POMDEROSA STUD
This extravagent moving 2 year old COLT has been purchased from 'Wieghaus-Vorwerk Stud', a family run business well-known for young dressage prospects.
Horse Breeding and Upbringing with particular successful bloodlines has been pursued by the Wieghaus-Vorwerk family for generations. The Stud is located in the hart of Germany horse area in Lower Saxony and was first established in 1296. From here originated Olympic Horses, Licensed Stallions, World Championship horses, participants of the Bundeschampionat in Warendorf and several auctions and competition horses on National & International level such as Sir Rubinstein, Export, Rubinero, Eskardo, Del Martino, His Lordliness, Wisdom, Clips, Signore Rubinstein, Sancerre, Meggie Wether, to name some of them.
'CHRISTOS' is a BAY STALLION by the Hannovarian Second Reserve Champion Stallion 'CHRIST' who has produced 9 Licenced sons sos far with Premium foals and show winners. He made his debut FN's predicted breeding value statistics in Dressage with 130 points and an above average result in jumping.
The Oldenburg 1st Reserve Champion Stallion, ' Revan' under saddle with Lisa Wilcox and again with Kyra Kirkland where he competed Intermediate 1 Dressage with great success. 'Revan' was by the sire of the century, 'Rubinstein' being one of the top dressae sires for years.
Inschallah is t he Oldenburg's foundation sire where he became the most important sire next to Furioso 11 at the famous Vorwerk Stallion Station in Cappein. Inschallah has sired Olympic medal winning dressage horses, over 34 fully approved sons, 83 premium mares.
Rob and Cheryl would like to thankj Arendt & Veronika for selling this amazing young dressage prospect to them. They look forward to campaigning this beautiful Stallion with ESA Dressage Rider of the Year, Ruth Schneeberger.
NEWS FROM A VERY HAPPY LONTANO PROGENY OWNER "HAZEL ROBERTS"
Hazel Roberts purchased a lovely moving 2 year old LONTANO gelding from Ponderosa Stud known as 'PS LECTRIC' and Hazel affectionaly calls him CUBA. This duo have had an absolute ball together. Hazel always confesing that as an amature rider, Cuba has big movement which has challenged Hazel to improve her riding skills. Hazels skills have paid off with many wins in Preliminary with scores over 70% and 68% for Novice.
The photo is of the pair of them atending a clinic held by the master Dressge Rider 'Heath Ryan'. Hazel was thrilled with their training with fantastic coments from spectators and this training has lead them onto the Medium Dressage movements, which showed everyone how trainable Cuba is and a very willing learner.
Hazel is currently enjoying lessons from Grand Prix Dressage Rider Ruth Schneeberger.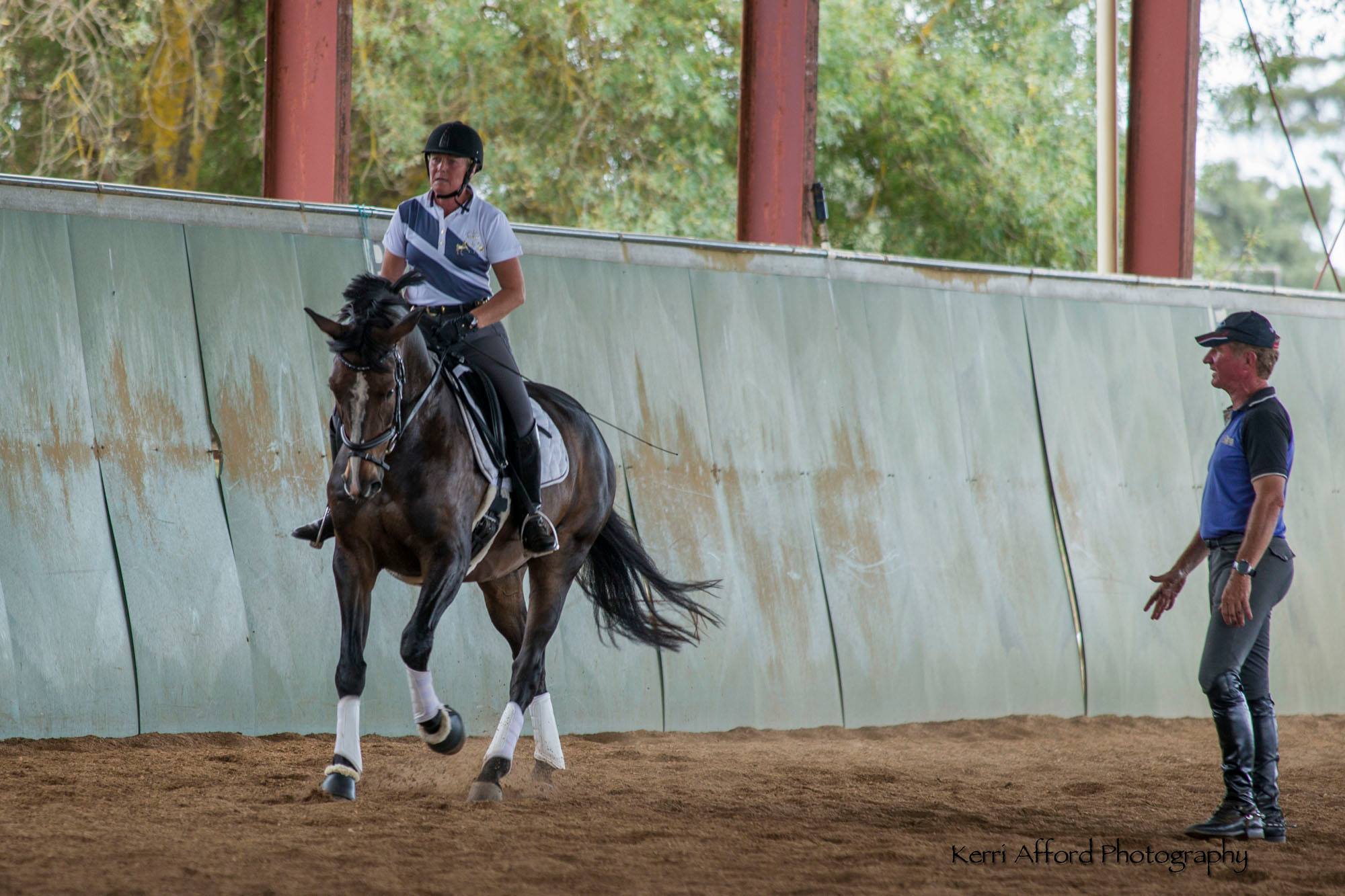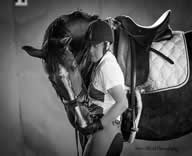 MID SOUTH EAST DRESSAGE WINTER DRESSGE COMPETITON
This event was the first start for Ponderosa Stud Royal Dancer and Ruth Schneeberger in the Advanced competiton as judged by interstate judges. What a perfromance for her first time to win on a score of 68.97%
Another first start for Ponderosa Stud Lucious and Ruth Schneeberger in the Intermediate 1 and to come away with winning this competiton and also winning the Prix St George and presented with a lovely rug for Champion FEI horse.
Lyrical and Anne Smith also made the journey to Naracoorte and also had a very good competiton to take out 1st in the FEI Freestyle, 1st in the Inter 2 and place 2nd in the Inter B. This combination are just starting their piaffe and passage work and are looking forward to the future.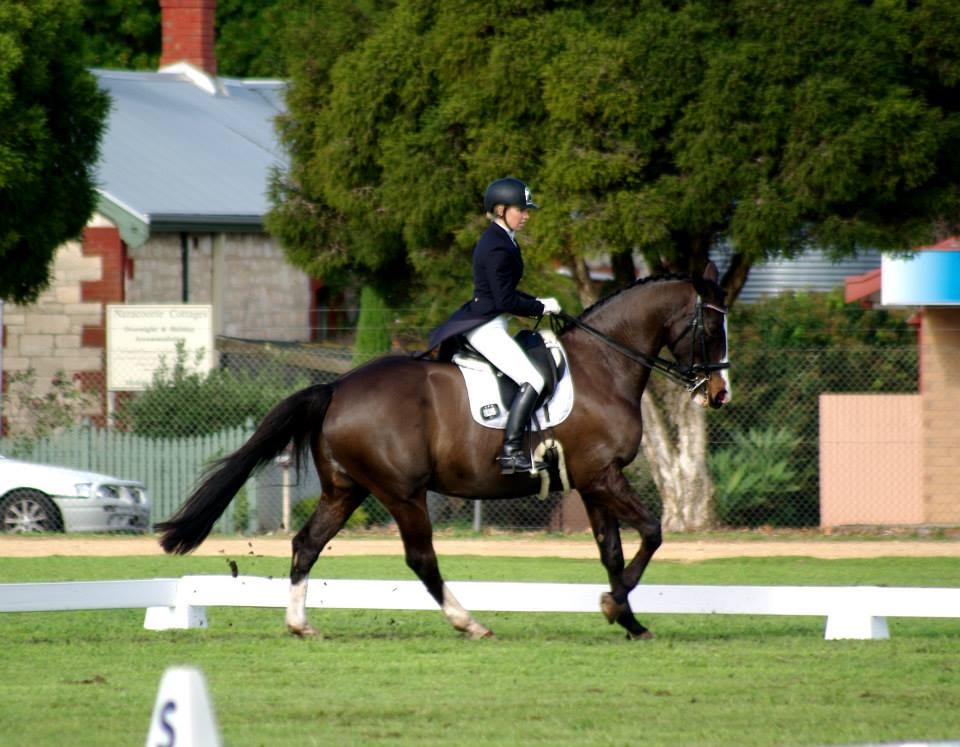 MT CRAWFORD AUTUMN DRESSAGE FESTIVAL
MCDC has improved the grounds and the going was great for this autumn competiton which had state and interstate judges to watch carefully over the dressage combinations.
Ponderosa Stud Royal Dancer (Lontano/Royal Hit) with Ruth Schneeberger won both her Medium Classes and again had a marvellous score of 70.88% taking out the Medium Championships.
Ponderosa Stud Lucious (Lontano/Zenner) won both the Advanced tests to take home the Championship.
Lyrical (Lontano/Aphrodite Free Me) ridden by Anne Smith contested the Inter 1 to have a convincing win on 62.3%. Lyrical then stepped up to the FEI Inter 2 to come a credible second place.
Ponderosa Stud Liqueur (Lontano/ t-bred) owned by Helen Runge and ridden by Ruth Schneeberger had a fabulous competition to place 3rd and 7th with high scores of 70.95% and 68.14%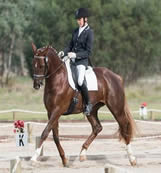 AWHA SA GALA DAY
Ponderosa Stud Royal Finale who is the full sibling to Ponderosa Stud Royal Dancer, had his debut start to his show career to win the AWHA Champion Foal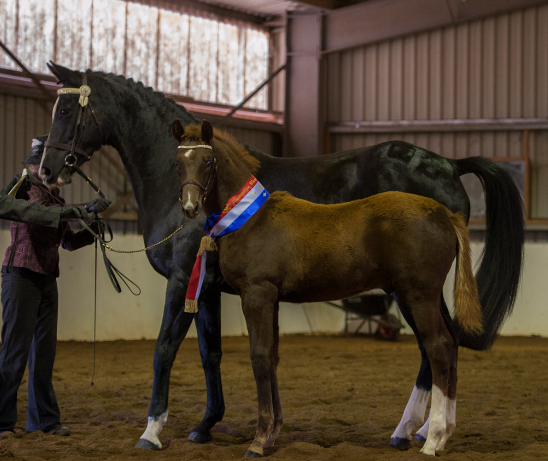 Ponderosa Stud Lolita, the dam of Royal Dancer and Royal Finale, won the prestigious Champion Mare Award in memory of EPrM Kinnordy Gravity sponsored by Tanderra Performance Horses and Ponies. Lolita then went on to win Supreme Led AWHA Exhibit at the Gala Day. Lolita is a Head Stud Book mare who has produced marvellous moving and confromed horses. Her foals are n the for sale page.
Cooramin Rialto Hit (Royal Hit/Debut) won the Champion Led 3 year old section and then went onto win Supreme Led AWHA Junior at the Gala Day
Ponderosa Stud Lucious in the ridden section came home with to Champion Ridden awards
EQUESTRIAN SOUTH AUSTRALIA STATE DRESSAGE CHAMPIONSHIPS
Interstate judges and competitors gathered for the State Dressage Championships which were held at the Royal Adelaide Show grounds along side the State Show Jumping Championships. The event was held over four days to accomodate all of the dressage and jumping competitons.
Ponderosa Stud Royal Dancer (Lontano/Royal Hit) performed a treat infront of the interstate judges and was rewarded with scores over 70% in the Elementary & Medium tests and took home both Championships and 2 very beautiful rugs. Ruth Schneeberger is very excited about the future of Royal Dancer.
Lyrical (Lontano/Apharodite Free Me) with rider Anne Smith had an amazing test in the Inter 1 for a second place on 62.5%
Ponderosa Stud Lucious (Lontano/Zenner) was Reserve Champion Advanced horse gaining a score of 68.487% and new to PSG with a credible 64.737% and 4th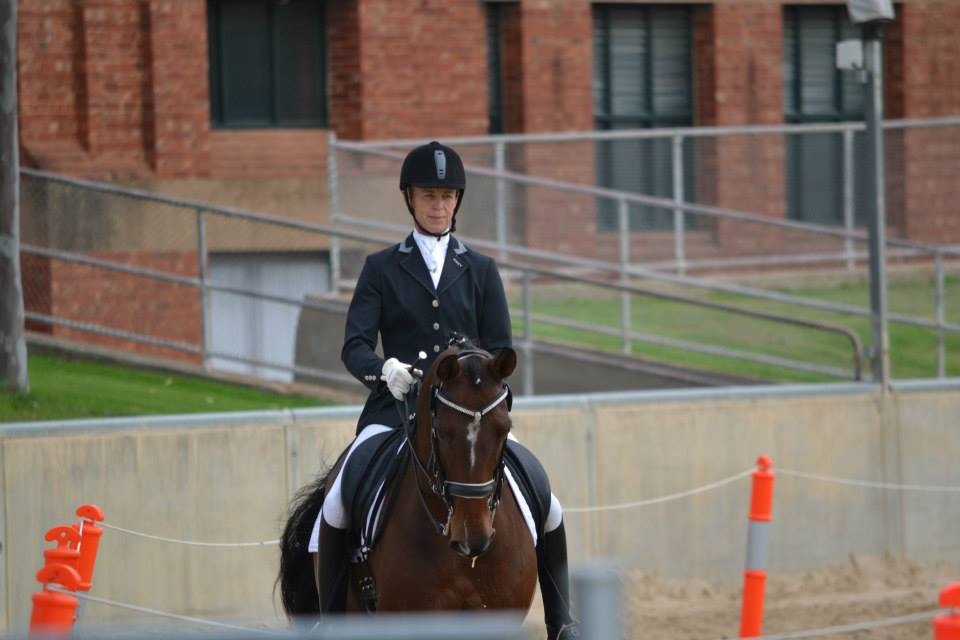 ROYAL ADELAIDE BREED SHOW
Anne Smith was excited to campaign Ponderosa Stud Lucious at the Royal Adelaide Show Warmblood Breed Ridden events where they won 2 Champion Awards and Supreme Ridden Warmblood Exhibit.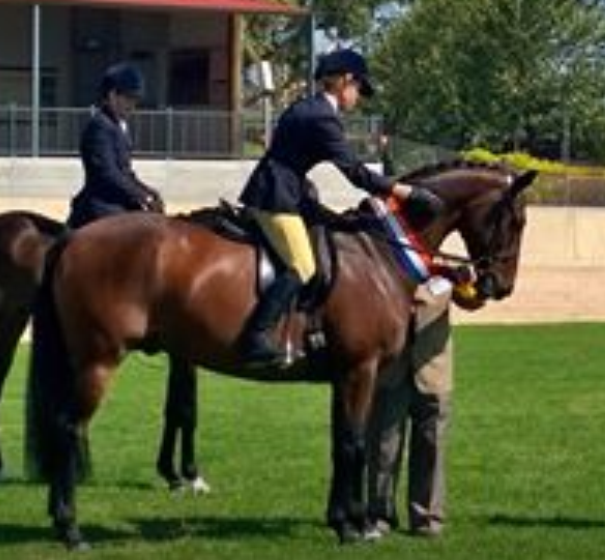 AUSTRALIA WARMBLOOD HORSE ASSOCIATION NATIONAL TOUR WITH OVERSEAS JUDGE
The AWHA held its first Inaugual Australia wide tour for Warmblood horses judging Led and Ridden sections. The judges were Joanne Verikios from QLD and Lynne Crowden from England.
Ponderosa Stud Lucious achieved the highest % for the Studbook ridden in SA with 78%
Lyrical (Lontano/Aphrodite Free Me) owned and ridden by Anne Smith was the highest % WPRB/WID ridden in SA with 77%
Cooramin Rialto Hit owned by Ponderosa Stud was the highest scoring Studbook Led in SA on 82.5%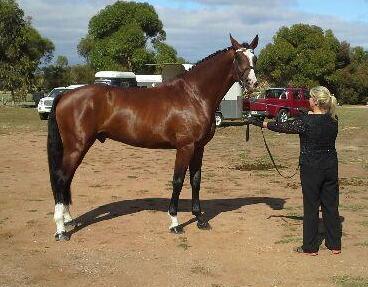 GLOBE DERBY ALL BREEDS SHOW, AUSTRALIA DAY ALL BREEDS SHOW & MURRAY BRIDGE A & H SHOW
Ponderosa Stud Lucious and Cheryl Hatswell had a lot of fun riiding at the Show Hunter and Breed Hack shows. They were extremely successflul with taking out Supreme Ridden Warmblood at the Globe Derby All Breeds show and then went on to win Supreme Ridden Exhbit Against All Breeds from their respective Champions.
At the Australia Day Show, Pondersoa Stud competed in the Open Show Horse ring to win Champion and again take home Supreme Ridden Exhibit of the Show against all other Champions.
At the Murray Bridge A & H Show Cheryl and Ponderosa Stud Lucious had a marvellous time to win Supreme Show Hunter in the Show Horse Council ring, the went onto win Supreme Ridden AWHA Warmblood and Supreme in the Open Warmblood classes as well.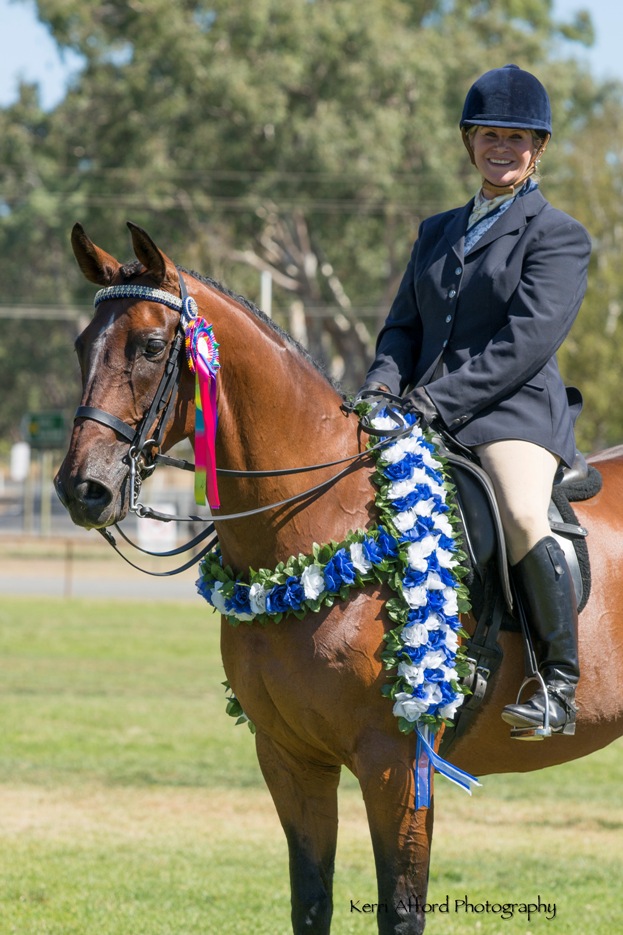 CLICK HERE to view older news