Ponderosa Stud is situated 45 minutes North of the Adelaide City center nestled in the cusp of the Barossa & Clare Wine Regions. The property comprises of 144 acres & it's border is the 'River Light'.
Rob & Cheryl Hatswell have extensive experience in Horse Husbandry & have full qualifications as 'Artificial Technicians' for Collection & Insemination of Equine Semen.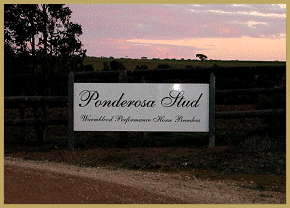 Their Stud comprises of Veterinary Office, Artificial Insemination & Collection facilities, Crush, Collection Dummy, Round Yard, Free Jumping Facility, Dressage Arena with Podium, Stallion Yards, Mare Yards with Shelters, Indoor Stables & wash bays.
Please phone to make an appointment for inspection.